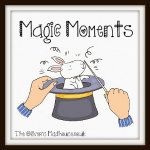 I actually can't believe my last Magic Moments post was all the way back in October. Surely that can't be right? I'm pretty positive there's been some magic between here and there, what a shame I haven't recorded it here! Still my big big rule with this lovely link up is that I only join in when I have plenty of time to get round and visit the other blogs that have joined in. And luckily both magic and time have coincided this week. So here goes:
It was Saturday night when it happened. It had been a bit of a dull day with nothing at all remarkable occurring. Because we'd been to the supermarket Mr Husband had bought doughnuts and had promised our tinkers that they could have one, as a treat, if they ate their teas nicely.
Biscuit was taking HOURS as usual, but Wiggles had powered through, scoffing up her peas with a spoon and nomming down great shovelfuls of potato.
She finished and I stood up to cut her a doughnut in half for her treat. Not entirely sure she would appreciate it, or even like it (I hate doughnuts) I asked her "Do you want some of this, darling?" And I showed her the sugary cake over her sisters head.
And then she said it. Three words. Three. Little words. All in a row, nay, in a SENTENCE! Perfectly constructed, succinct and to the point. She bellowed back at me "Yesh peease Mama!"
Her first unprompted sentence! And with a "please" in it! I was so proud I nearly gave her the whole doughnut. But I didn't. I just gave her lots and lots of kisses for being so clever. My little girl does sentences now, whooooo yeah! Magic that!
Have you entered my giveaway yet? If not, click the image below to be in with a chance of winning a selection of fabulous crochet gifts, good luck!