Hello to you!
You may remember a short while ago I was seriously hankering after a Sleepy Nico baby carrier. I'd mentioned it a few times in blog posts (mostly
here
, and
here
) the keen eyed amongst you may have later spotted said baby carrier being rather excellently modelled (
here
and
here
). Well, I've had it a little while now, This Baby and I have been getting used to it, making ourselves familiar and I thought I would write a little post about it.
When That Baby (my oldest) was born nearly five years ago now I had never heard of the concept of "Babywearing". As far as I was concerned, your baby went in a pram, a pushchair, or what I call a buggy. A swanky buggy perhaps, a brightly coloured buggy maybe, but one way or another you had a buggy. We bought ours from Mamas and Papas, we chose a travel system. Mr Husband Sir insisted that it wasn't too girly, so we ended up with a black three wheeler, with logos that are apparently very impressive to men and - *gasp* SUSPENSION!!! Mr Husband Sir rather rudely disolved into a fit of giggles when the lady in the shop explained to me that I had the option to lock the front wheel into "Jogging Mode". Ok, so I've never once used "Jogging Mode" in the entire time that we've had it, but the point is I COULD, if I wanted to. I just don't want to ok? But I COULD.
Then I started to notice more and more people carrying their babies in forward facing carriers. How very smart I thought, carrying your baby, no buggy, no soggy haired swearing trying to squish the flippin thing in the boot. I was sold! So off we trotted back to the baby shop and we bought our very own baby carrier.
We timed it perfectly because we bought it just before our first family holiday to the Lake District. We love a long walk up a mountain, always have. Mr Husband Sir proposed to me on this holiday, half way up a mountain, sat in the sunshine by a tarn. It was beautiful. It nearly didn't happen because apparently I was carping on about how his specially selected, wonderfully romantic spot would be a great place to dump a body if you were a serial killer. Apparently I then (loudly) I talked myself out of that idea because despite the excellent remote location, you'd need a wheelbarrow at the very least to lug your corpse uphill, then access to a boat to get to the middle of the tarn, then something to weigh down the body.... you get the picture. Thankfully he eventually got Mrs Mood Killer to shut up and well, the rest is history!
Anyway, here we are on said holiday, proudly lugging our little bundle of joy around on our tummies:
Mr Husband thought he was clever with his sneaky two fingers up. Cheeky.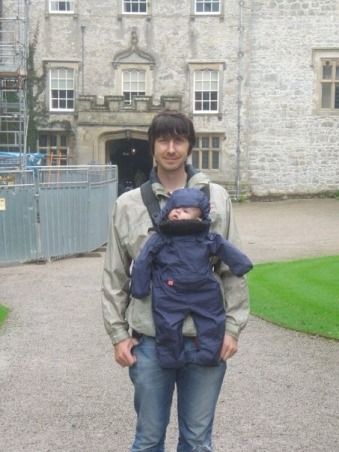 We ever bought her a MASSIVE rain suit...
She dribbled on it a lot.....
And regularly stole my glasses to nibble on them...
I thought we were wonderfully trendy with our cool new baby carrier. But there were some very definite downsides. You may notice that in the majority of these pictures Mr Husband is carrying That Baby. Well there was a very good reason for that! The bloody thing was murderous to wear for anything longer than half an hour, it was balanced all wrong, pulled your shoulders forward and gave me the worst back ache. I also found that you needed a sodding science degree to get it on properly. There was no chance, NO CHANCE of putting it on solo. It had straps that twisted and that wouldn't sit right, and they'd dig into you as soon as you were somewhere completely impractical and couldn't possibly take it off. You may also notice that in pretty much every single one of these pictures That Baby's head is lolling to one side. She just looked uncomfortable. She was never a titchy little baby and I always felt like we were squishing her in. Not good. Still, I didn't realise we had any other choices, so that was what we did.
Fast forward four years to the time just before "This Baby" was born. I met a friend of mine to talk about breastfeeding She'd had her second little girl a few months before and she was, and indeed is, a breastfeeding pro! She's on support groups and everything. I hadn't been able to feed That Baby myself and desperately wanted to be a bit more clued up before This Baby's arrival so I could give it another shot...
She arrived wearing her baby in something I had never seen before, she had on what looked to me like a baby rucksack, her little girl faced her Mummy, could breastfeed on the go and looked sooooo comfortable. Not only that but the fabric was beautiful. Really unusual and individual. She explained to me that a lot of research had gone into baby carriers and that having your baby in a forward facing position could potentially do quite a lot a damage. She told me that I could have been (unwittingly) putting stress on my baby's delicate spine, during the first six months of a babies life their spine is developing and at this time they are most at risk of hip dysplasia or dislocation. She asked me if I would like to be dangled from another person with all the pressure from my bodyweight concentrated on my
ladybits
groin? Because, that's how your baby feels when you're carrying her facing outwards Of course I said "No flippin' ta!".
It all made sense! My old carrier had never seemed comfortable for "That Baby" somehow she *felt* wrongly balanced. It just added up in my head. I had a good look at her carrier and was a little sceptical, it still looked a little confusing so I asked her how she got it on, was it a load of bells and whistles and complicated bits and bobs?
Then she turned into a transformer. In a speedy blur she'd made some clicking sounds and released her little one from her carrier, then she'd taken the carrier off and given it to me. Blimey I thought, that looked easy. But that was getting it off, surely that's the straightforward bit? I studied the carrier. It was beautiful. It felt sturdy and strong, but at the same time it felt soft and light (Sleepy Nico carriers weigh less than 500g). The fabric was gorgeous, a baby fashion statement in itself. There weren't a load of straps, crossed over pieces of fabric or complicated looking methods of tightening. "Put it back on again then!" I said, knowing that this was going to be the real test. Again, she mutated into a flippin' transformer....click, click, click and her little girl was back in her carrier looking happy and comfortable. She explained that the style of carrier made sure babies were seated, rather than dangled. They were supported underneath their bottoms and they have support all the way up to their knees. With their legs and bottoms in a sort of loose 'W' formation they were safely positioned and facing inwards meant their backs were not under strain and correct hip development was being encouraged.
I wanted one, but in all honesty other things happened, I put it to the back of my mind and I pretty much forgot all about it. This Baby was born and everything was a blur for a while. Initially she went into her pram and laid flat. Lovely. no problems there.
She grew out of the pram and went into the buggy. Only THIS Baby had decided that being strapped into a buggy where she couldn't see her Mama was equivalent to the seventh level of hell! She could manage twenty minutes, then she'd scream like a banshee, turn herself purple with outrage and try to wriggle herself free. Not fun. People in shops would tut at us.
So finally it was Sleepy Nico time, hurrah! Now, they're not cheap, mine was £75, but the design and structure certainly make them worth it. Plus, I figured that I would happily spend that amount on a buggy, and this was meant to take it's place so it was worth it. It took me what felt like ages to save up my pennies, so many times I felt like saying sod it and cracking out the credit card! But I spent that time wisely, the thing I found the hardest was choosing the fabric, there are so many beautiful designs to choose from, I must have asked everyone I came into contact with for their opinion! Eventually I settled on a purple carrier (I went for an organic cotton carrier) with a design of little
purple houses
. The straps are made of soft purple corduroy (which This Baby loves to suck on) and they're wide and padded. I must say the fabric is stunning, I'm so pleased with the choice I made. I agonised over it so much! If anything there are too many fabric choices on offer, and they're all beautiful. But if you really can't decide you even have the option to have a bespoke carrier made for you, with a fabric of your choosing.
I've had my carrier nearly a month now and I genuinely love it. It's incredibly easy to put on, there is one buckle on the belt section which you click behind you first like a belt, this is also thick, padded and very comfortable. You then hold your baby in front of you with its legs curling around you at your waist. Then the fabric of the main body of the carrier is lifted up behind baby's back and you pull up the shoulder straps. The last step is to click a buckle which lays at the bottom of your neck and at the top of your shoulders on an adjustable strap, this makes sure the front straps don't slip off. Voila! That's it! You can also wear your carrier on your back, although I have yet to try this. I'd miss her snoozing on my chest and giving her kisses as we walk along.
This Baby loves it, she snuggles in close to Mummy and I can cuddle her whilst we're out and about. She looks comfortable and to me, there is a world of difference between this and our old carrier. Her weight is distributed between my waist, back and shoulders, it's not all concentrated on my shoulders pulling them forwards and I can happily carry her for hours. And I have! I can put my carrier on by myself, although the first few times I did stand in front of a mirror to make sure everything looked ok. I can also get her out quickly and easily with just a few clicks, sometimes without even waking her.
Sleepy Nico carriers also have a sleep hood which can be pulled up if your little one falls asleep. This stops their head from lolling backwards, it's also very useful in the rain if you've forgotten your brollie! They are 100% cotton and you can put them in the washing machine, which is always a bonus. The straps are made of soft corduroy (which This Baby loves to suck on) and they're wide and padded.
The one and only downside I have found with my carrier is that my daughter now refuses to go in her buggy for even twenty minutes. She knows she has other, far cuddlier options now, the cheeky sausage! Not that I mind.....:)
So my advice? Get one, a thousand times get one!
If you would like to find out more about Sleepy Nico as a company check back soon to read the chat I had with Sleepy Nico's lovely owner Angeline Braidwood. If you would like to find out some more about Sleepy Nico, or check out the different designs they have on offer click
here
.
Tell me that's not a happy baby?
Love!

P.S I have not been paid or sponsored to write this post, I just genuinely think this is a fantastic product and wanted to share it.