Good Morning, good morning! I hope everyone had a wonderful weekend, whether you "do" Easter or not it's lovely to have a nice long weekend isn't it?
It's Magic Moment time again and I'm very happy to be linking up with
The Oliver's Madhouse
once again.
I am sort of cheating a bit this week as I have scheduled this post ahead of time and as you read this we should (hopefully, if everything has gone to plan) be on a little mini-holiday with some friends. I'm hoping that we'll be having a few Magic Moments during our time away, although just going somewhere all together is pretty magical if you ask me.
I am also sneakily squeaking in two Magic Moments for the price of one (again)...those of you who follow me on Twitter may have noticed that I won a pushchair from Kiddicare in a competition last week! What do you mean you don't follow me on Twitter? I'm hurt now! @Kate_Pirouette - hunt me down! How cool is that though? I am so excited! Thank you Kiddicare! I liked you before, but I love you even more now!!
But for this week's Official Magic Moment, I would like to direct you to
THIS POST
. In which I discuss the magical occasion when my Dad KEPT saying "Bell End". If you are of a nervous or sensitive disposition, or you are particularly offended by repeated use of the term bell end I probably wouldn't read it if I were you. It may not be your stereotypical moment of magic, but it has been indelibly printed onto my brain and I will never ever forget it for as long as I live. And it does kind of sum up our crazy mad relationship and always make me smile.....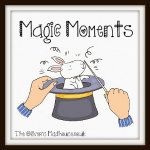 See you on the other side comrades!