Hello lovelies!!
I am a happy girl today! Want to know why? Of course you do!!! I am very happy to be featured as today's newbie as part of Post Comment Love. Click the pretty little link below to find out more about this fantastic series...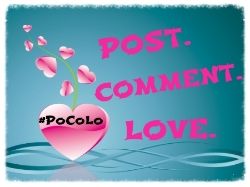 A big thank you to Vicky of
Verily Victoria Vocalises
and Jaime from
The Oliver's Madhouse
for the letting me join in the fun. Pop over to Jaime's lovely blog to read my post?
And if you're here visiting from #PoCoLo hello and welcome!!! Lovely to have you! Come here I'm going to do "Mwah, mwah's!"



P.S Don't forget about the Google Reader demise, be sure to keep up to date using
Bloglovin'
instead. :)