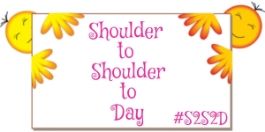 Today I am proud to be hosting the #S2S2D blog hop.
I have only been blogging for a short period of time, but I feel privileged to be a part of this community, I have connected with and feel like I know some truly wonderful people thanks to this little blog o'mine and I will always be grateful for that. I have watched bloggers surround and support people through troubles and hardship and I have been both impressed and humbled by how thoughtful and wonderful they are to offer their kind words and wise counsel. Never more so than in the case of the lovely Emma from who blogs at
Crazy with twins
. You may have heard that she recently underwent radiotherapy after having surgery for cancer, after which she was left radioactive, was kept in isolation and away from her family and was unable to hold her young children due to the amount of radiation she was emitting.
To see Emma through this incredibly difficult time some super thoughtful bloggers, Tori at
Verily Victoria Vocalises
and Phil from
Fragments from Firefly Phil
came up with the idea to hold the Shoulder to Shoulder to Day Blog Hop every day of her period of isolation to try and put a smile on Emma's face. And then the most wonderful thing happened! Emma's system cleared itself of the radiation far quicker than anyone anticipated and she could finally give her husband and her babies a much needed cuddle. When I read
this post
it brought tears to my eyes, it was so, so wonderful.
So, why are we still blog hopping? Because although Emma had good news the utter bastard cancer still exists. We wanted to raise awareness, to encourage people to be brave, to get anything that's unusual or that they're concerned about investigated by a doctor and not to just leave it. Let's face it, if Richard Blackwood can have prostate examination live on television (anyone else see that this week? No? Just me?) we can all manage to man up a bit, right?
And rather than resting on her laurels, Emma is now running the Race for Life, for which you can sponsor her if you would like and she's also fundraising to
buy an iPad for the iodine room at The Cheltenham General Hospital where she received her treatment. What a girl!
So, following in the original spirit of this hop, to put a smile on Emma's face, I'd like to share with you a video of my family, taken last year at our Jubilee Street Party. It features my lovely Mum, sporting an excellent curly wig bellowing her head off, my Dad, who is an accomplished flag waver, my wonderful friends and neighbours and my husband and child, running for the hills at the end. They're not drunk, they're just nuts! It never fails to make me laugh, I hope it does the same for you. Please do link up below if you have something amusing you'd like to share; enjoy!
This is a Blog Hop!
---
This is a Blog Hop!
---